7-DAY PACKING LIST
Most people tend to over pack because they fear that they will need something.  A packing list is proof you have everything you need for every activity.
And the solution to forgetting something is to start the packing process early.  Place garments in a "staging" area, or on a rack, ahead of time.  This will give you several days to plan what you want to take.
Here are suggestions for completing your packing list:
List all activities for each travel day, even routine activities like driving to and from the airport.

Begin first by writing down any outfit(s) you plan to wear for a "Special Featured Event," (e.g., a wedding, business presentation, party, sporting event). Then move on to other activities.

Include tops, bottoms, 3rd layer pieces and accessories+.
– A third layer piece is a jacket, or anything that functions as a jacket, i.e., cardigan, shawl, poncho,  hoodie.
– Accessories+ means accessories, shoes, belts, or undergarments you plan to wear with your outfit.
Choose garments you can wear several times, or that can serve more than one purpose. For example, an oversized silk scarf can be worn not only at your neck, but also as a shawl, or even as a bathing suit cover-up.
As you continue to decide on clothing choices for each activity on your itinerary, choose pieces that coordinate with one another. When you do this, you are actually generating a travel capsule wardrobe.
In truth, anyone can wear any color in the spectrum, warm or cool, provided it is the correct shade and the correct clarity. Of course you can wear any colors you wish, but if you want to look your absolute best, doesn't it make sense to learn which hues harmonize with, and enhance your natural coloring?
Personal style teamed with flattering colors always works in creating outfits that express your true essence and ultimately make you feel fabulous.
It helps to physically lay the garments out as you fill in your packing list. That way you can visualize what the outfits will look like.  Additionally, you can see new combinations that coordinate with each other that you may not have previously thought of.
Click Here to Download your own Packing List
BELOW IS A SAMPLE OF A 7-DAY PACKING LIST: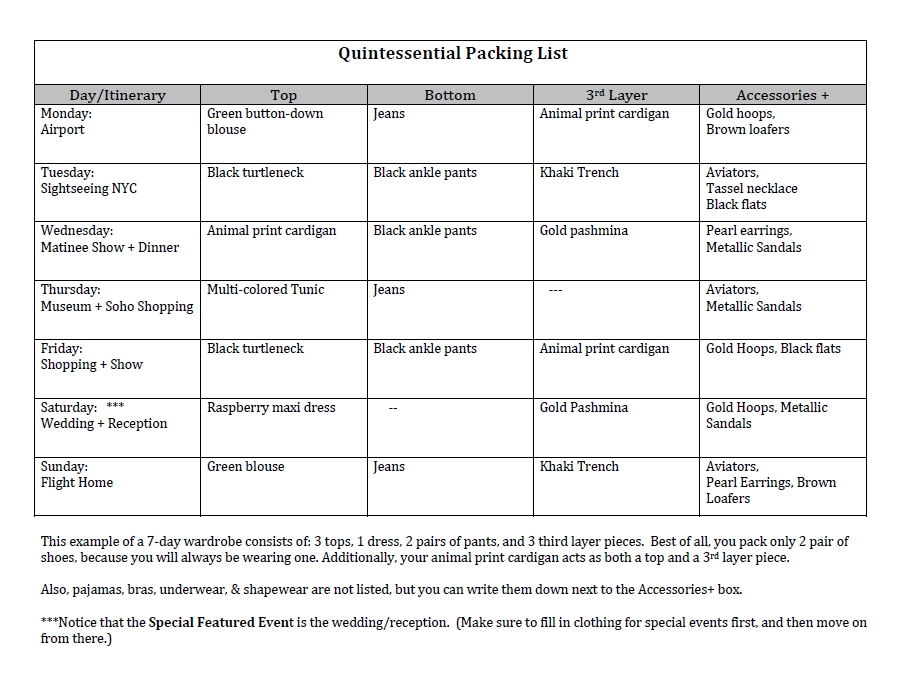 Click Here To Purchase Quintessential Style Book!
Would you like your mirror to reflect an image that makes you feel wonderful and confident–so great you can totally forget about how you look and get on with the amazing life you want to live?