Melissa Latham - Makeover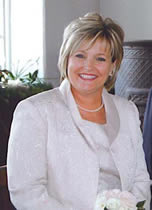 "Each time I walk into my closet, the clothes that truly belong to me are always happy and are having a good time.

The dark and somber clothes are just that – dark and somber. Little did I know that I needed bright colors. (I am a Gentle Light Bright) I always thought I should buy dark colors to hide my extra pounds. That was not right at all.

When you are in your colors you beam from inside and out. Having my color chart done was one of my best investments and one of the best things I have done for myself. I truly feel this. Thank You"

–Melissa Latham
The Color 1 Color Chart makes shopping a Joy
"I've been having so much fun since you did my color chart and makeup, Janna.
When I went through my closet to see which clothes matched my color chart, I found that the clothes I always feel extra special in are part of my colors – as I'm sure you would have guessed.
Then I went clothes shopping. I love having the fold-out color chart to hold up to an item to see if it's even worth bringing back to the dressing room, and knowing a few guides for how to pick color combinations, textures and patterns that are best for me while skipping over the rest. Shopping was so much more efficient and fun.
Also, when everything I put on in the dressing room flattered me in some way (starting with color), whether I bought it or not, I felt energized throughout the shopping experience rather than frustrated because so much "didn't look good on me." I also bought a scarf in my richest yellow. I would have skipped over that scarf in the store – thinking it way too bold – but since it was on my chart I held it up to my face and suddenly I began to glow. I had to have it.
Last night my husband and I went out and I wore all new clothes in a mostly monochromatic color scheme as recommended for Gentle/Muted: I felt fantastic all night and noticed that I needed less makeup when the clothes I was wearing brought out the best natural colors on my face. On top of that, my face looked just as fresh by the end of the evening as it did at the beginning. I can't wait to finish my winter shopping!
My husband liked my new makeup and told me the other day that my eyes looked bigger, my face looked narrower, and I looked younger. That's a winning combination.
Thanks for the great experience and all the fun I've been having since!"
– Emily Tietz, Editorial Image Austin, TX
The Kiss Me Mascara is the greatest invention!
"The Kiss Me Mascara is the greatest invention! For the first time ever I am clean and clear under my eyes for the entire day since I started that mascara and your new waterproof cream eye liner."
– Andrea (A principal with long challenging days)
Instant results from skin care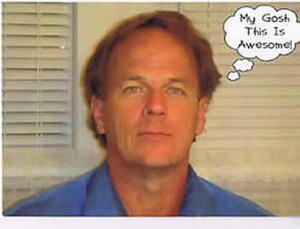 Colleen Moon, our skin care product creator, had a little fun with her camera man at a recent shoot. The results were so amazing, we took this photo.
After just one application on one side of the face with Premiere Alphagen Mask (10 minutes) and Contour Powder Mask (20 minutes) and a touch of the new Pre-Whipped Perfection base . . . . Can you tell which side?
The savings are a real bonus!
"You have saved me a fortune on clothing.
My color chart is my guide–as is your guide to body features. You have saved me money on cosmetics as well (I don't have to go to the drugstore and guess which colors are right) and the chart has given me confidence to feel that my makeup compliments my skin/hair color."
– Nan Brown
I am enjoying many compliments
"I have NEVER, EVER, EVER had a man come up to me and tell me "you look so beautiful" until about two weeks ago. I honestly did not know how to handle it. I had bought a new outfit that made me think "damn, I look good" (something I have never, ever thought before) and the day of the evening I was going to wear it, I had my hair highlighted. For the first time in my life I'm feeling good about myself. I've lost weight.
Your make up and skin care products make me feel attractive, and coupled with the weight loss, I feel like a new person! When people compliment me, I am very happy to tell them where I got my lipstick, and what you've done for me. I have been surprised at how faithfully I have used the masks. All of the products. That's a testament to your skill! Because I was amazed at the results and duplicate them, I am not willing to forego the "ritual." (in fact, in the airport at Austin a couple of weeks ago, I almost missed my flight. I had to go back and check my carryon bag with my makeup, because I was not about to throw it out because it was not in a plastic bag!) Thank you."
–Susan
Janna will help you express your uniqueness
"Janna Beatty is a pioneer and inspirational leader in her field. Her new book Quintessential Style is a gold mine of style, wardrobe and color information she has developed in her notorious career. I appreciate her mentorship to all the people she has helped learn how to "own" their uniqueness and find their special version of beauty and confidence.
If you have questions about Wardrobe, Color, Style, Shopping, Skin Care and Makeup – Janna is an expert and innovator."
– K.E.W.
""If you need expert advice on cultivating your own style, you have come to the right place! Janna Beatty can change your life, by helping you realize your strengths and your potential — and the confidence that comes from that is all you need to conquer the world. Whether it be color or image consulting, personal shopping, or closet revamping Janna is "the best" at what she does. She will help you "see your magnificence" more clearly. I don't know anyone who has every come away from her studio that was not "pumped" after receiving her services. She is a consummate professional."
–Sharon W.